Septembers - Featured Kandi Family Artist
Hi! So introductions first, I'm Krystle, I live in SoCal and I love making Kandi! I first ever made Kandi back in 2014 but only did a few simple singles until 2018 when I really dove deep into learning new styles of Kandi and actually attempted different styles. Thanks to the beautiful souls on YouTube I learned how to make perlers, simple X-base cuffs and peyote stitch. Kandi for me was a big trail and error process. What works for other people sometimes wasn't the best method for me that's ok. Once I got the hang of things and figured out what I gravitated more to, Kandi got so much more fun. I'm still always learning and trying to improve for those who are gracious enough to accept my Kandi.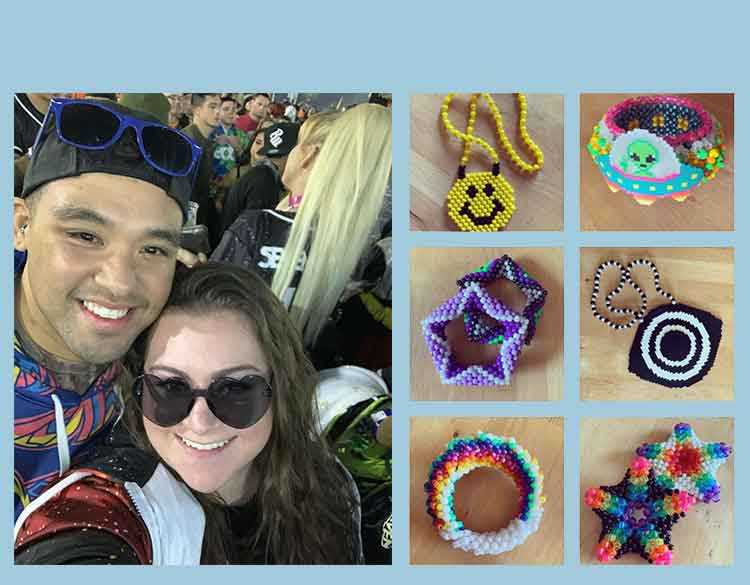 Now when it comes to the trading aspect I can't explain how happy it makes my heart to have that moment with someone. I'm normally a pretty reserved person but the rave scene and Kandi in particular has helped me open up and be more confident when approaching others. When trading I'm so grateful to share that time with a new friend, even if it's just a quick 30 second trade waiting in line. We all know Kandi takes time to make and I never want that to be taken for granted no matter how big or small the trade is I'm thankful for everything I'm gifted!  
     I find inspiration all around whether it's the theme of the event, favorite cartoons or an artist/song I've had on repeat and how it makes me feel.  The opportunities for inspiration are endless. I've always loved how expressive this craft is and how everyone has a unique style. I've learned so much from other Kandi Kids and am forever grateful for their guidance. They've shown that there's room for everyone in the Kandi community and everyone started from somewhere. All Kandi Kids ever want is to share good vibes and spread PLUR (and a hug if you're cool with that). I look forward to seeing everyone out at events and can't wait to make new memories with you all!